I have reviewed and loved products from
College Prep Genius
before, so I was very excited to find out that the creator of that line of products had written something even closer to home for us -
High School Prep Genius
.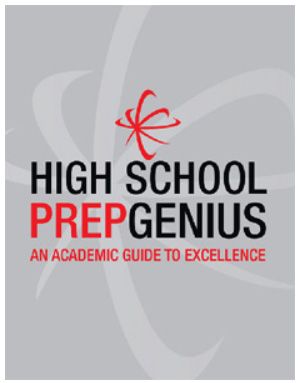 High School Prep Genius is an oversized paperback book retailing for $29.95. Reading it is like having a high school guidance counselor sitting in your living room telling you everything you need to know to prepare your child for the college search and application process.
Homeschooling has so many advantages over public schooling, but lack of access to information is definitely one of the detriments. At my public high school, each grade level had a counselor whose sole job it was was to make sure that students were on track to graduate where they needed to be to do what they wanted to do after graduation. For some students, that simply meant graduating at all. For others, though, that meant weekly meetings to discuss new scholarship opportunities that had come up, colleges that should be visited, checks to make sure that deadlines hadn't been missed, and discussions about tenths of grade points and the differences they could end up making in various ways. As homeschoolers, we could only dream about such sources of information -- until now.
High School Prep Genius is your high school counselor. In this book, Jean Burk tells you what you need to begin doing now - even if your child is only in 6th grade - to prepare for college. There are sections about building a college notebook (with very detailed instructions on how this should be done), essay writing tips, ideas for finding a mentor, scholarship ideas, study tips, transcript helps, and very important 9-12 grade timelines. For homeschoolers, these years seem to go by so quickly that without those timelines, it is too easy to find oneself on the cusp of 12th grade without having prepared for anything college related. After reading this book, that won't happen to you! For those of us in the great free state of Texas, where we have no homeschool regulations AT ALL, Jean's book is absolutely essential. It might be the only thing that keeps us on track.
How I Used This Book
So what does the parent of a (by age) 6th grader need with this book? The section on 7th grade talent searches!! I was fortunate enough to take the PSAT in 7th grade as part of the Duke University Talent Identification Program once upon a time. Doing so was hugely advantageous for me. First, I was able to get a look at the SAT 3-4 years before most of my peers, completely demystifying it. Second, scoring well on it opened up opportunities for me to participate in Gifted and Talented summer camps and programs around the country. Now, understand, I *didn't* participate in them - way too expensive - but being invited was an honor and was something that I could always include on any application or transcript. Being a Duke TIP scholar is no small potatoes.
Hence, I want this same opportunity for Therese. As a homeschooler, though, it is a little more difficult to figure out how to go about "getting her in." High School Prep Genius to the rescue! Not only does Burk cover the Duke TIP in her book, but she discusses other 7th grade talent searches I have never heard of. For junior high kids, these talent searches are the best thing they can do as a precursor to high school scholarships. They matter.
So, Therese and I know exactly what we have to do to have our ducks in a row for next year, starting with taking the Iowa Test of Basic Skills starting tomorrow (Monday). Her score on that will qualify her for these talent searches. As for me, I have noted in my long term planner those things that I need to make sure I have done for 9-12 grade. For those of us, especially, who don't school according to year/grade level, timelines like this are even more important. It is too easy for us to forget that the world operates according to deadlines. For me, with a child like Therese who is chronologically finishing 6th grade, but who is academically in the middle of 8/9 grade work, I really need timelines like these to make sure that I can check off when things actually need to and then *do* get done. I am not even quite sure how old she will be when she graduates!
In Summation
High School Prep Genius fills a huge need in the homeschool community. With the exception of a few pages dealing exclusively with homeschooling issues, though, everything in this book is equally applicable to public-schoolers. In fact, I have already loaned my copy to a public school friend (and gotten it back, I should mention. This book has a permanent place on my book shelf.). The best kind of reference book is one that answers questions that you didn't even know you had, and this book does that in spades. For a nominal price, you can buy peace of mind that you are doing everything necessary to prepare your high-schooler for life after homeschool.
Parents with children of a wide variety of ages read this book, so be sure to read the other Crew reviews to see some college notebooks and other great insights!