Oh, Apologia Educational Ministries, will you ever stop knocking it out of the park? I'm going to guess no. The streak certainly doesn't end with Exploring Creation with Astronomy, 2nd Edition, that's for sure. I have and used the 1st Edition of this fabulous curriculum, and all I can say is, Apologia took something that was good, and they made it great!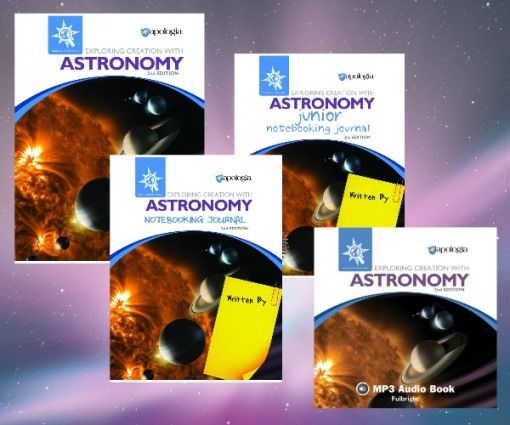 There are four components available for this curriculum, and I was blessed enough to receive all of them:



Here is a direct comparison between the two Lessons 6 - The Moon:
Here it's very easy to see the addition of new activities: they are now interspersed throughout each Lesson, rather than placed only at the end as before. This picture shows the same place in the Moon chapter in each edition (2nd Edition is on top):
Astronomy 2nd Edition Notebooking Journal - for grades 3/4-6. Beautifully updated with full-color (note that in the sample picture below, the Notebooking Journal on the right is the one for Exploring Creation with Chemistry and Physics. I don't have the 1st Edition Notebooking Journal for Astronomy, but I did want to show you a direct comparison between the two editions' Notebooking Journals. The new ones are just stunning!).
Astronomy 2nd Edition Junior Notebook Journal - K - 2nd/3rd. Compared to the standard Notebooking Journal, the activities are guided toward younger children, with more coloring pages, primary writing lines, and easier overall activities. The Journal still supports the textbook, though, with pages that correlate with each chapter/lesson. The Junior Notebook Journal is a wonderful way for younger children to participate in science with their older siblings without having the pressure of too much writing!
Astronomy 2nd Edition Audio CD - this MP3 CD is the audio book of the textbook read by Jeannie Fulbright herself! Now, in our family, I do the science as a read aloud, but that's not always possible or desirable in every family. If you have a child who prefers to be read to, who is a slow or reluctant reader, or who has a learning disability related to reading, this CD is a wonderful addition to the standard textbook!
How We Used Astronomy
Several years ago, we read Apologia's Exploring Creation with Astronomy, 1st Edition. At that time, we did many of the activities in the book (my children were more in the target age for this series, which is K-6th grades). This time through, we are enjoying the book as a read aloud primarily, as Mary-Catherine (11, 6th grade) works through the newly updated Notebooking Journal. I won't prevaricate: we have used Apologia's Notebooking Journals before, and while my kids have liked them, they haven't loved them. The new editions are so much better! I am sure that color makes them more expensive to produce, but it doesn't seem to me like the price to the consumer has increased (don't quote me on that - it's just a mom's observation based on what I remember from buying them in the past!). The color makes them more appealing, though. Here is Mary-Catherine working on a Lesson Six (The Moon) crossword puzzle (tomorrow we start Lesson 8 - Space Rocks. I think we're all really looking forward to that one!):
The 2nd Edition text is just beautiful. The kids (13, 11, and 11) have noticed the difference. Right away they pulled the 1st Edition off the Apologia shelf (yep! A whole shelf!) to compare the two. There is less text on each page and more beautiful illustrations. Plus, because it's updated, you can now see relevant dates for upcoming things like solar eclipses! The previous edition still lists dates like 2007 and 2008!
If for any reason (and I personally can't think of one) you have shied away from Apologia's fabulous elementary Astronomy curriculum in the past, I strongly urge you to give this new 2nd Edition a look. It's just gorgeous, as are the supporting Notebooking Journals. By all means, click the banner below to see what other Crew members had to say, too!