You might be thinking another worksheet site review (not if you're anything like me, though!), but I promise you that this one is unlike anything you've ever experienced before! CHSH-Teach.com is a different breed of worksheet site altogether. In fact, the CHSH Download Club might change the way you view download club memberships altogether. If you've dismissed every one you've come across, give this one a look. When you see everything you get for $25, I promise you won't believe it. When I tell you that the site is the work of one woman (Lynda Ackert, a Christian wife, mother, and lifetime educator), you will likely be more than slightly impressed. Personally, I'm blown away.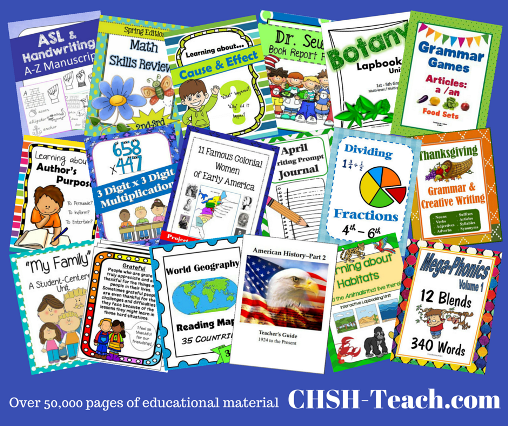 Just looking at that graphic above makes me want to go right back on the site to find everything that I've been missing in the last six weeks! It also makes me wish that I still had young children, because the worksheets that I had access to when my kids were learning phonics were all exceptionally boring. Further, I had to compile "units" on my own. CHSH-Teach.com has done all of the work for you. If it says "Unit" in the description, it's a unit. The phonics units come complete with handwriting activities, games, and everything else you could want to reinforce the actual lesson. In fact, the "ch" unit is 48 pages long! Why am I telling you about phonics when my kids are all jr. high and high school aged? Probably because teaching my children to read was one of my least favorite activities and checking out phonics resources is one of the first things I do when I see a new website like this one!
So what exactly is CHSH-Teach.com, though? Well, this helpful graphic kind of says it all!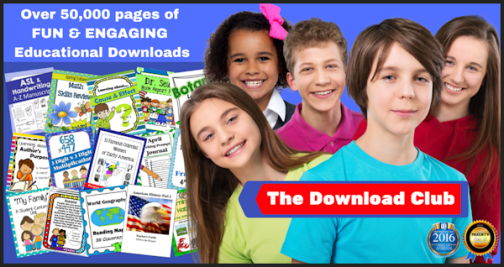 Through the Download Club, you have access to tens of thousands of downloads in virtually any subject you can think of, including Bible, languages (Spanish, French, Italian, and ASL), Language Arts, arts, music, and crafts, science, social studies, health, electives (architecture, character studies, and social issues and safety education). You can search for a resource by subject, by grade, or by month (so helpful when you have younger students and you like to tie your studies in to the month's "themes").
One thing you'll notice right away that differentiates CHSH-Teach.com from other download sites is that far from offering only worksheets (although the worksheets are awesome - I love them!), this site offers entire courses and books for download! For example, my children are studying Astronomy right now. Because it is a subject we have studied before, and because they are now older than the first time we went through the course, they can handle more upper-level material on it. It was very easy to search the site for Astronomy materials and to come up with these reference materials!
I was able to download each of them to my computer and then use OneNote to further organize our Astronomy lessons! It took all of about two minutes - it was wonderful not to have to hunt down supplementary resources myself!
How about spelling? Spelling is one of those things that frustrates me about homeschooling because no one book is just right. The list may be right, but the activities don't work for that particular child. Books that are *only* lists are way too much work for me, because my 6th grade son still really likes activities. Well, only yesterday (August 30, 2016 as of this writing), CHSH-Teach.com uploaded the first 6th grade spelling unit for me (okay, it wasn't for me, but it felt very personal!) -- all 121 pages of it! Here is just one of the exercises that jumped out at me. Begin a lover of word puzzle books, I really appreciated seeing something fun and different for my son to do!
One of the most delightful aspects of the site has to be the "Curriculum Treasures from the Past." Here you will find vintage textbooks and readers. Can you find them elsewhere? Sure, but why bother looking when they are all gathered here for you. First Lessons in Geography has to be my favorite! "How many continents are there?" "Two." "What are they?" "The Eastern and the Western." And I thought it was going far back when my parents learned that there were five continents ("Eurasia")! So delightfully vintage!
If you like to supplement your existing curriculum, or if you get bored with your existing curriculum (I'm so guilty on both counts), you will definitely want to check out this Download Club. If you're one of those social types (not guilty here, I'm afraid), the site even boasts forums, groups, and a community blog. It really is far more than just another worksheet warehouse (far, far more).
Don't take my word for it, though. Visit the site and check out all of the free resources and then click the banner below to read all of the other Crew reviews. I'm willing to bet you won't be able to resist!