For me, one of the eternal mysteries of homeschooling is why I find writing and literature so difficult to teach. I certainly don't find them difficult to do! I very much look forward to doing them with my kids. In fact, if you had told me when I started homeschooling that I would ever seek out actual curriculum in order to help me teach my kids these things, I would have scoffed. Something about pride and falls is ringing in my ears. In any case, I want my kids to love literature, and I want them to be able to write and express their ideas regarding it, so it was with great appreciation that I reviewed Writing with Sharon Watson's Illuminating Literature: When Worlds Collide program with Nicholas (12).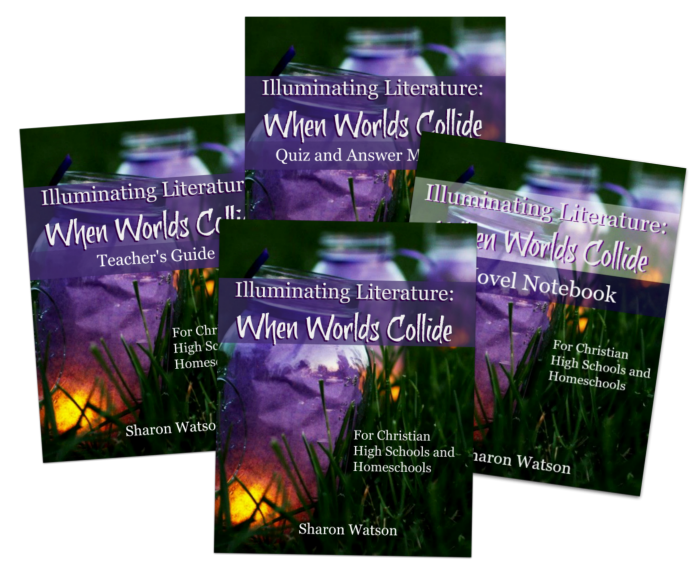 Illuminating Literature: When Worlds Collide is a complete program comprised of several components, including:
Illuminating Literature: When Worlds Collide (Student Book) - a 285 page softcover consumable book with lessons for eight works of literature. The book contains all the information a student needs to complete the course (apart from the novel), but see additional material discussed below.
Illuminating Literature: When Worlds Collide: Teacher's Guide - a 182 page softcover consumable book that is absolutely indispensable to the course. Rather than simply regurgitating the Student Book and providing answers to questions in that volume, the Teacher's Guide is a completely separate book. It talks to the instructor giving in-depth discussion about the structure and content of the course. For every lesson it provides guidance on how to teach the material and discussion helps. The Student Book is very clearly written to the student. The Teacher's Guide is very clearly written to the teacher.
Illuminating Literature: When Worlds Collide: Quiz and Answer Manual - a 101 page softcover consumable book that is exactly what it says. These quizzes are actually available online, but as some people prefer the pencil and paper approach, this book is available. The quizzes cover the literature read and are composed of "Yes, I Read It" recall quizzes, Literary Terms quizzes, and Opinion Surveys.
Illuminating Literature: When Worlds Collide: Novel Notebook (Free PDF Download) - a 102 page download that is like notebooking pages for directed note taking for use with the novels you read during this course.
How This Course is Different
Unlike many other literature programs out there, Illuminating Literature: When Worlds Collide has a theme - that of conflict, or when worlds collide. Therefore, with every work of literature, the theme of conflict is explored within the confines of a Christian worldview. Having this unified theme makes this course quite unique. Students still learn everything they need to know about literature, but they are able to tie it all together in a cohesive way.
How We Used this Course
As this is a high school level course, I knew that Nicky would need extra help doing it. Also, because he loves to read what he chooses to read, but not necessarily what I tell him to read, I planned from the start just to treat the literature assignments as read-alouds. The vendor was gracious enough to actually provide us with the first two novels used in the course - Pudd'nhead Wilson by Mark Twain and The War of the Worlds by H.G. Wells.
The course starts out nice and easy. It eases into the material, which is great if your student hasn't had much exposure to literature prior to the course. The Teacher's Guide is absolutely fantastic for walking you through exactly how and what to discuss with your student. For someone like me who tends to want to throw a 12 year-old into a college literature course his first time out, a Teacher's Guide is almost essential, as paradoxical as that sounds. This Teacher's Guide is one of the best I have seen. Although it is more geared toward classroom work in some places, it is very easily adaptable to one student.
Because this is a literature course, as opposed to a writing course, you really can control the amount of writing your child does. I ended up having a lot of discussion time with Nicky. That way we could cover the literature concepts without getting bogged down in the aspects of writing that might trip him up (and drive me crazy).
I really like this course! The book selection is great. This is real classic literature with enduring themes and great vocabulary. It covers the same literary concepts I learned in high school, but I learned many of mine through a textbook. *This* is the way such things were meant to be learned!
Clearly, I'm a fan of this great program. To see how other Crew members felt, be sure to click the banner below.