Anyone who reads my blog knows that I want my kids to speak Spanish. My in-laws came to this country from Cuba more than 45 years ago and my husband grew up completely bilingual. Sadly, I did not know enough Spanish to raise my kids the same way, and I'll be forever playing catch up because of it. Because of this, I am always excited to review Spanish products. I have to say that
Flip Flop Spanish
's
See It and Say It Flip Flop Spanish
is far and above my kids' favorite Spanish program yet. Because they love it, and because it's a great program, I love it, too.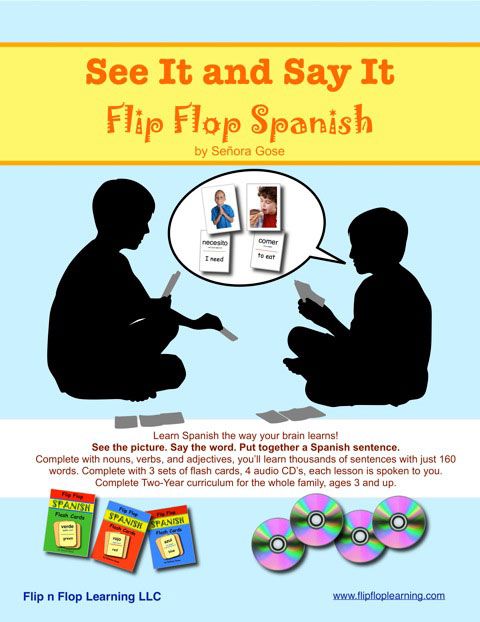 There are several key components to the See It and Say It Flip Flop Spanish Program. They include:
complete scripted lesson plans
The full-color flash cards are color coded so that you know exactly where to find the words that you will use in any given lesson. Because the lessons are completely scripted, you will always know exactly what to say to your child...but because the audio CDs are included in the program, you won't have to say it if you don't want to! The flexibility either to use the CDs or to narrate the program yourself is one of the program's best features. It is set up perfectly for you to do whichever is best for you!
Each Flip Flop Spanish lesson only takes a few minutes each day to learn the new material, but you can spend as long as you want practicing. As you can see from the sample lesson above, students use the flash cards to make sentences which they also practice saying. They can practice for a few minutes, or they can practice for half an hour. Their sentences can make perfect sense, or they can be silly (as long as they are grammatically correct!).
· By learning only 160 Spanish words, Flip Flop Spanish teaches students thousands of sentences over the course of a two-year curriculum.
The Delgados and Flip Flop Spanish
As I said, my kids really loved Flip Flop Spanish. All of us found the pace very slow, though. Because the program is recommended for ages 3 and up, it makes sense that the lessons would proceed slowly. Further, Sra. Gose builds a rest week into the program at intervals, further lengthening the duration. We found that we didn't need the rest week and that we preferred to move more quickly, so thanks to the magic of homeschooling, we did!
For the first few weeks, we did Spanish about three times a week and instead of doing one lesson a week, we did one lesson a day. My kids reviewed the day's material over the course of the day, so that by the next morning, they were definitely ready to move on to new material. They loved getting out the flash cards to make the sentences that we had learned (along with different ones). While Sra. Gose recommends having older children write out sentences, I elected not to have Therese (12) or Nicky (10) do so. It has not hindered their learning the material at all. Further, because the kids are using their sentences *constantly*, their retention from day to day is very close to 100%.
Although Sra. Gose provides the scripted lessons orally on CD, I chose to narrate them to my kids myself for the simple reason that I prefer my own accent. Having been around my Cuban in-laws for the last 20 years has given me a strong preference for the way they speak Spanish and I want my children to sound like them. Again, it is a great benefit of the program that parents can either use the CDs or speak the program to the children themselves.
At first glance, it may not seem like learning only 160 words would result in much Spanish, but first glance would be completely and totally wrong. The genius of this program is in how quickly you are up and running speaking real and meaningful Spanish. Other programs begin with grammar (and, I'll be honest, I usually prefer this approach) and can take a long time to get to speaking. That can be discouraging to many kids. This program is completely the opposite. Your kids will be speaking Spanish the very first day and for that reason, they will love to come back to it the next day! Plus, the sentences are fun!
At the rate recommended, the program will take about two years to complete. At the rate we are moving through it, we will be done in about nine months. I fervently wish that Sra. Gose would write a follow-up program exactly like this one!
See It and Say It Flip Flop Spanish is recommended for ages 3-99 and costs $135.97. For a two-year Spanish program for the whole family, that's a really great price. Other Crew families have also been learning Spanish with this terrific program, so be sure to click on the banner below to read all of the reviews.
Review updated 2/4/18 to reflect correct pricing and new links. All of my opinions remained unchanged!