I have a confession to make: I don't have games on my phone. I have gone through phases where I would enjoy a certain game and play it for a little while, but if I have a spare moment with my phone, I'm usually obsessively catching up on seeing what new podcasts have launched. I would certainly never play a jigsaw puzzle game. Those require, gulp, spatial skills! Until now, that is. It's not just review talk (N.B., I don't do that. Ever.) to say that I have really been loving Planet 316's Daily Bible Jigsaw!
Daily Bible Jigsaw is available on just about any platform you can think of: Google Play (which I use for my Galaxy Note 4, an Android device), the Apple App Store (for iOS devices), Facebook (on Mac or PC browsers - Firefox and Chrome work best), and Facebook Gameroom (for PC's - think of it as Facebook's answer to Steam). The app itself is free, but like most apps, there are in-app purchases for coins, which allow you to purchase "helps." These helps do things like rotate all the puzzle pieces to their proper orientation (*so* helpful for the spatially challenged like me!), sweep all the pieces to the sides to get them out of the way, peek at the completed puzzle, and more.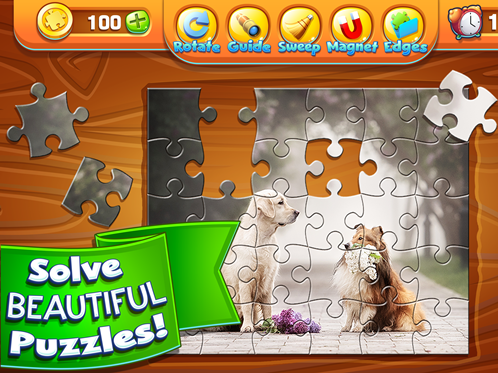 The daily puzzle is free if you play it on the day it launches. Otherwise, it costs three coins to play previous days' puzzles. If you, like me, thought you didn't like puzzle apps, this is one that I really encourage you to try - especially with the purchase of a few coins. It's amazing how much more I like doing these puzzles when 1) there is a really encouraging Bible verse at the end and 2) I can get all those darn pieces facing the correct direction from the outset! Yes, I know that it's just a "phone game," and spending money on it is a bit frivolous, but I look at it as a very inexpensive way to relax for five (did I say five? I mean three. Surely it has never taken me more than three minutes to solve one of those puzzles! Ahem.) minutes with a productive end (a Bible verse that I can reflect on for a couple of minutes. You can even share the finished puzzle on Facebook and challenge your friends to beat your time!
This has been one of the most enjoyable reviews I have ever gotten to do for the Homeschool Review Crew! 89 other fortunate Crew members also got to review the Daily Bible Jigsaw, so be sure to click the banner below to read all of their reviews!