Getting a package from Apologia Educational Ministries always feels like getting a Christmas present, and our latest package from them was no exception. Readers in Residence Volume 1 (Sleuth) Full Set will definitely light up more faces than just Mary-Catherine's (12) and mine.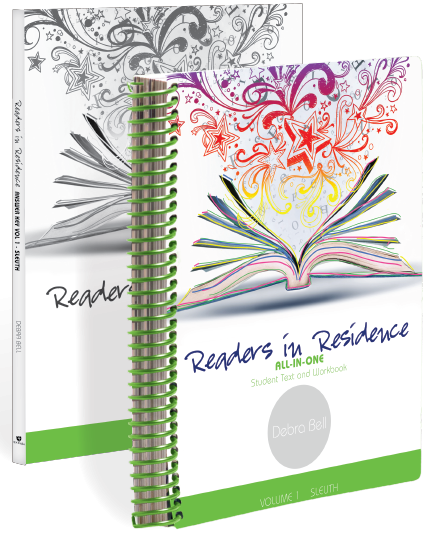 A great companion to a product we reviewed last year, Writers in Residence (see review here), Readers in Residence full set comes with the following products: an all-in-one student text and workbook and a softbound answer key. Purchased separately, they retail for $80 and $15, respectively. The set retails for $89. The set is suggested for students in grades 4-6.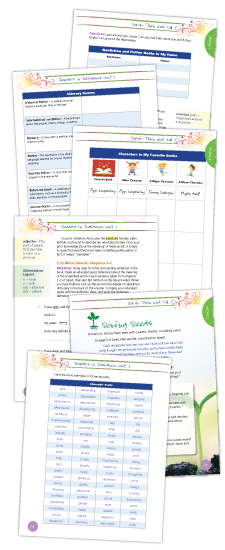 Readers in Residence is the perfect introduction to teach students how to read a book (as Mortimer Adler would say!). This FAQ explains the program in depth, but, in essence, Readers in Residence teaches reading for understanding (see the landing page here). Students learn things like inference, context clues, literary elements, and figures of speech, but they learn these things while reading really good books (Sarah, Plain and Tall, Charlotte's Web, and Because of Winn-Dixie)! This is learning that doesn't feel like learning - like so much of Apologia's curriculum. Also, like much of Apologia's curriculum, students can work through much of this material on their own, although as with any literature program, discussion is an integral part and does require mom or dad.
The Student Text and Workbook is 562 full-color pages long and is intended to be used by one student only, so if you plan to use this program with more than one child, each will need his own workbook. The book is divided into a 32-week schedule, making the expectations clear and easy to understand right off the top.
Further, any time there is an activity, a rubric explaining expectations and giving guidelines for evaluation is also provided.
Sections that students must read are in very manageable chunks. Key terms are highlighted in yellow and are defined in the margins. Written work on any given day is limited. None of that should give the impression that students are not learning a lot, though, because the contrary is true. Author Debra Bell gives kids so much information on every page, but she does it in such a non-threatening manner that even the most reading-averse kid won't be put off - and Apologia materials are just so attractive. They make kids want to pick them up and use them.
In terms of written work, students answer comprehension-type questions (i.e., "Why does Caleb want Anna to remember Mama's songs?"), fill in charts, fill in a reading response journal, define words, and other activities. There is a lot of variety: this is not simply an answer-the-questions workbook-style curriculum. There is something new and different in every module and kids will definitely stay interested - at least Mary-Catherine did.
How We Used It
Here's a secret: Mary-Catherine (12) is really too old for this curriculum. She is finishing 6th grade, and Reading/Literature is one subject in which she excels. She not only reads well above grade level (for example, she read these three books many years ago; these days she thrills to Victorian literature like Jane Austen), but she has excellent insight into what she reads. She understands genres and characterization. She gets context clues and things like foreshadowing. That's because literature is my thing. I have read to my kids since, well, before birth, and I've always, always talked through the things I've read. I learned that from my own excellent elementary school teachers and my dad. So I can say that Mary-Catherine really hasn't learned anything new from this course.
HOWEVER, she still loves doing it! She loves the books that were chosen (seriously - who doesn't?) and she loves the activities. They make her think about writing as much as they do about reading, so that means that she can appreciate the curriculum on a whole new level. So if you take a cursory look at the sample (like I did the first time I saw this curriculum) and decide that it's not right for your child, give it a closer look (like I did!) and consider it as more of a writing curriculum than a reading curriculum, because it absolutely is also a writing curriculum. Debra Bell goes into such detail even dissecting individual paragraphs and asking students about how rules of paragraphs help one to understand the story. There is so much you can do just with this section of the RIR book (p. 99-100 if you want to jump ahead!). Really, I know that Apologia has Writers in Residence (since I was lucky enough to also review it), but if your child loves reading and writing, especially creative writing, then this curriculum is a gem you really should be aware of.
So, Mary-Catherine definitely had to reread Sarah, Plain and Tall, because when you're reading for specifics, you read differently. Also, students are asked to look at specific pages for specific things. Still, I basically turned Mary-Catherine loose and just checked in on her. She really enjoyed activities like the running character trait charts that she could add to incrementally as she read more and more. Working through this curriculum has just confirmed for her that she really loves literature. I, too, have enjoyed this curriculum and I hope that there will be a higher level forthcoming. If so, I will definitely be checking it out.
49 other Review Crew members got to check out Readers in Residence, so be sure to click the banner below to read all of the reviews.