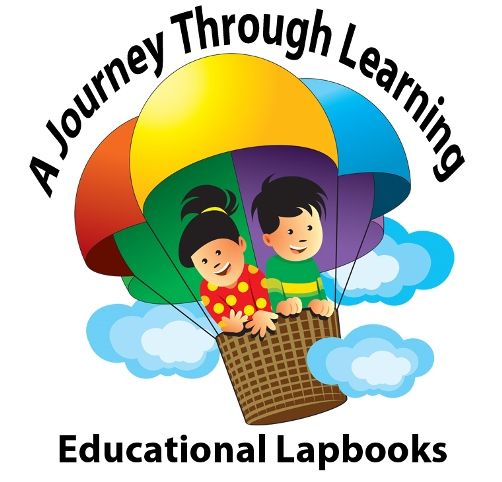 I'm sure I'm not alone when I confess that lapbooks intimidate me. I love the end result, and if you have a child who enjoys this creative process, I think it is a great way to learn. There is something about all of those fancy folds, though, that just makes me hesitant to dive into one. Well, with A Journey Through Learning Lapbooks, those folds are not an issue! Here's why:
It may have been love at first sight when I saw An Overview of the 20th Century Lapbook Grades 2-7. The simple folds are only one reason.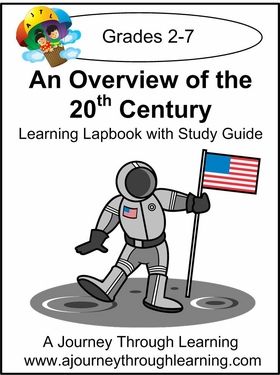 The primary reason is that there is just so much educational material included with this lapbook! First, here's everything your child will learn:
But they just don't create minibooks based on each of these topics - far from it! For every single one of these topics, there is a sheet of study material. This page on Wilbur and Orville Wright is but a small sample:
And the minibooks themselves don't require your child to have a Master's Degree in art to complete them. As I mentioned above, they are simple folds. Simple folds don't mean simple knowledge, though. Mary-Catherine (12) has enjoyed this lapbook so much. She has been able to complete it herself with very little help from me. Only twice did she bring me a minibook and ask me where to find the information she needed to complete something. Otherwise, everything she needed was included in the study guide (the written material sampled above).
This is a picture of the completed first folder of the lapbook. I literally took it as we were running out the door evacuating for Hurricane Harvey. Mary-Catherine was working on assembling the lapbook when we started trying to pack some things and I told her to leave the lapbook because it wasn't essential. Believe it or not, she argued that point with me! She has really enjoyed this one! Her favorite thing about the lapbook was the fact that it acted as a review of the US History that we did last year. She would be reading through the study guide and I would hear exclamations of, "I remember this!" or "We learned that, but I didn't know this!" That raises a great point. These lapbooks can be used in so many different ways. You can use them to supplement an existing curriculum, or you can use them to review, just as we did. Mary-Catherine never even considered this school. She just got it out to work on in her spare time. I love that about AJTL products. They just don't seem like school - not because they are not scholarly, but because they are not onerous. What more could you ask for from a homeschool product?
A Journey Through Learning has so many different lapbooks, and the Crew was lucky enough to get to review a bunch of them, so be sure to click the banner below to read all of the reviews (and on a personal note - please pray for those of us in Houston. So many have lost so much.).