Greek 'n' Stuff is one of the first vendors I ever learned about when I started homeschooling, so they will always have a special place in my heart. I have used their Bible studies and their Latin before, but somehow, their awesomely named Greek has never come home from the homeschool store with me. Fortunately, we were given the opportunity to review Hey, Andrew! Teach Me Some Greek! - Level 3 Set.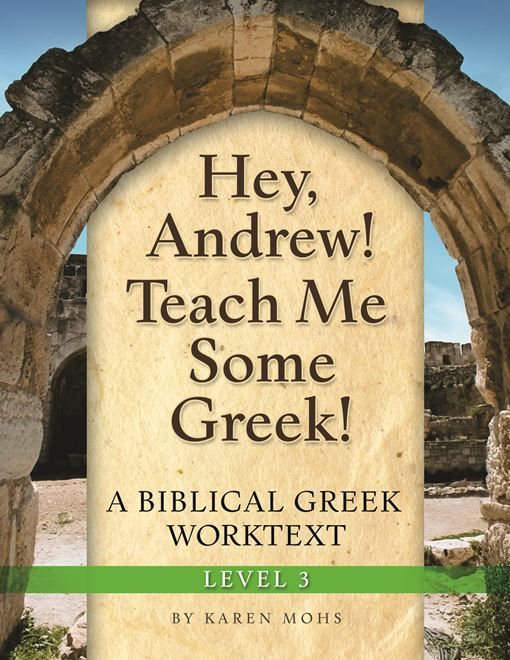 Therese (16) has had some Greek before, and Nicholas' (14) curriculum didn't have room for another class right now, but the twins (12) were itching to learn Greek, so I requested this product for them. Although they are Greek neophytes, Greek 'n' Stuff recommends Level 3 as the starting place for beginners 4th grade and up. It assumes no prior knowledge of Greek, as it begins at the beginning with the alphabet. After receiving it in the mail and showing it to the twins to gauge their interest, I decided that Michael would be my Greek student this summer! He really loves languages. A couple of summers ago, he took on Hebrew for a few weeks. Last summer, he studied beginning Japanese. After seeing how he has done with Greek, I may bring Mary-Catherine on board with her own student book later this fall, but for now, Michael has been my Greek guinea pig!
We received the Level 3 Student Worktext and Answer Key of Hey, Andrew! Teach Me Some Greek! along with the Pronunciation CD for Levels 3 and 4. The Answer Key is an exact replica of the Student Worktext with the answers filled in. For some courses I would say that you don't need the Answer Key, but for this course, I say that it is an absolute necessity (unless, of course, you are fluent in Greek)! The Answer Key also has a note to the Parent/Teacher that makes a few suggestions, such as buying a Greek Interlinear New Testament in order to practice reading orally. There is also Bible Copy Work in the Appendix. The last thing that the Answer Key contains that is not present in the worktext, but is a very nice thing to have, is the Schedule of Lessons. It calls for doing one page per day, and that's been a very nice pace for us. Can you do more than one page per day? Obviously, yes, and with ease. Why the Schedule of Lessons is nice to have, though, is because it contains teaching tips throughout, and the tips are not short one sentence throwaways. They are like a second Greek course for adults. I wouldn't want to be walking Michael through this course without them.
The pronunciation CD is also a must-have. Michael was really excited to start digging into his workbook (worktext), but the first thing he said when he began flipping through it and saw the Greek words was, "How do you say these words?" I was very glad to be able to answer him by pulling out the CD!
Michael and Andrew
In keeping with the suggested schedule (although, as the author notes, older children can certainly do more), Michael has been doing the minimum one page per day. It is a good pace for him right now with his current schedule (he is in 7th grade). He enjoys learning Greek, and Mary-Catherine has started saying, "I wouldn't mind learning Greek, too!" I think I'll be picking up a second student workbook (worktext) for her in the near future. This course is highly accessible to kids. It is not hard, and as a parent, you have some control over how much you actually teach them. You can go deeper by incorporating some of what is shared with you in the teaching tips, or you can just let them go with what is in the student worktext. Daily flashcard practice is essential, though, and they should not move forward if they have not mastered the required flashcards. There is certainly not an overwhelming amount of material presented each lesson, and the activities used to introduce and cement the material is varied and fun. This is not a typical workbook course at all, so don't shy away from it just because there is a workbook involved!
Michael has been able to do most of the worktext with little assistance from me, which is where I want him to be at this point in his homeschool journey. Of course, I need to hear his oral work, but the actual putting pencil to paper part has been something he is completely able to do on his own -- and he enjoys it!
I am so glad to have finally been able to try Hey, Andrew! Teach Me Some Greek! after hearing about it for a full decade! Of course, Greek 'n' Stuff has other great products, too, including Bible studies! Be sure to click on the banner below to read all of the Crew's experiences with them.