Math. I know it's not one of *those* four letter words, but I'll be darned if it doesn't feel like it most of the time in my house. Therese (16) is sort of consumed with math right now, as she is staring down the barrel of the PSAT in a few months. Because of the fact that math is not her strongest subject, I was happy when I saw the opportunity to review Math Essentials from No-Nonsense Algebra. These math lessons are short, but thorough, and they provide just the right amount of review if you've already done algebra (which is how we used this program).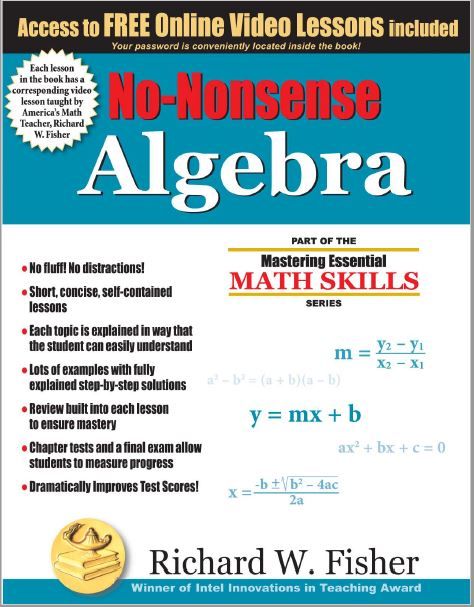 No-Nonsense Algebra is a complete algebra program, and it can be used that way. It covers the following topics:
Necessary Tools for Algebra
Solving Equations
Graphing and Analyzing Linear Equations
Solving and Graphing Inequalities
Systems of Linear Equations and Inequalities
Polynomials
Rational Expressions
Radical Expressions and Geometry
Quadratic Equations
Algebra Word Problems
Each of the ten chapters concludes with a review, and there is a final review. There are also chapter tests and a final exam. Solutions to all of the problems are found at the back of the book. The book itself, though, is only half of the No-Nonsense Algebra program. Each lesson is accompanied by a free online video lesson. Purchase of the book entitles you to free access to all of the online video lessons, which correspond perfectly to the chapters in the book:
The videos are done "whiteboard style" as below:
Therese only watched them when she needed something clarified that she didn't understand in the text, but if you are learning this material for the first time (rather than going through it for purposes of review), the material is presented clearly and concisely by Richard W. Fisher, winner of the Intel Innovations in Teaching Award. Mr. Fisher really is an excellent teacher. He makes these concepts easy to understand. I don't find Algebra intuitive at all, but he makes it so much more comprehensible. I asked Therese more than once, "Why aren't you watching the videos?!" "Because I don't need to!" she answered. That's for two reasons. First, Mr. Fisher's written explanations are also excellent, and that's how Therese has been learning math her whole life - from a book. Second, Therese is reviewing most of these concepts, and not learning them for the first time. I have a feeling that when I use this book with my twins (12) in a couple of years (because I will be using this book with my twins!), they will welcome the excellent videos.
Therese's Assessment of No-Nonsense Algebra
"I really liked the fact that there were short explanations, but they still told me exactly what I needed to do, and it was nice knowing that I had the videos as back up if I couldn't figure it out just based off of the text lesson. I thought it had just the right amount of problems and problems at different difficulties because it never got boring or repetitive. It had just enough to be able to figure out the problems and then move on. The parts that I have covered so far have resulted in dramatic improvements in my SAT math score (according to my test prep materials), and since that is why I wanted to use this book, I would consider it a huge success. I am definitely going to finish the entire book."
We have been loving this program. To see what other members of the Homeschool Review Crew thought, be sure to click the banner below.