Memoria Press is one of my all-time favorite companies. In fact, for that one semester that I taught in a brick-and-mortar classical school, it was one of the companies upon whose curriculum I relied. Since that time (ten years ago), I have used at least one thing from Memoria Press each semester that I have homeschooled. I have been blessed to review their products many times before for the Crew. This time around, getting to review The Iliad & The Odyssey Complete Set was a literal Godsend, as I am currently discerning what to do with Nicholas (13, 8th grade) for high school. For the first time, I am considering boxed curriculum, and Memoria Press is at the very top of that list. Having a preview of what he would be doing for part of his Memoria Press day has been so incredibly helpful!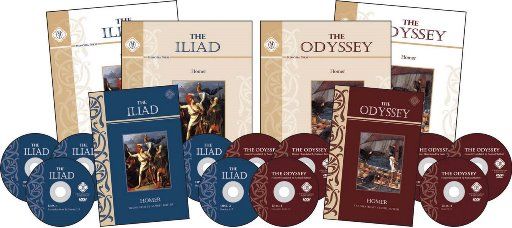 This set comes with everything your student needs to learn these two must-reads of the Great Books tradition. For each of the two books, you receive the text itself, a student guide, a teacher's guide, and a set of instructional DVDs. I will say off the bat that the included translation, Samuel Butler's, is not my favorite. I am a die-hard Richmond Lattimore fan. That's the translation that I read in college, and that's the translation that I have had Therese read of each of these books in high school. *HOWEVER*, the Butler translation is an easier one for younger kids, and it is a much easier sell for Nicholas. He's my math/science guy, my probably engineer, and being able to hand him Butler made being able to hand him this curriculum much easier, so I am *not* complaining about the translation.
Memoria Press was beyond generous in sending us both of these packages, given that we could only delve deeply into one of the books for the review period. Our review will focus on The Iliad. I know that most people tend to prefer The Odyssey because it is more exciting, but I prefer The Iliad for a couple of reasons: first, it happens before The Odyssey. Odysseus can't travel home before he fights in the Trojan War (and, yes, I know that The Iliad isn't really about the Trojan War, but you know what I mean. It still comes first temporally). Second, The Iliad is, in my never-to-be-humble opinion, the better story. Achilles is so -- human. He is so very flawed. He is held up as the archetype of a hero, but so often kids are almost shocked to see how he behaves in The Iliad. He doesn't seem very heroic. I never want to miss the opportunity to have that discussion with any kid when I get the chance, especially with one of my kids. Finally, The Iliad is the harder book, so why not start with it and get it out of the way. Teach Nicholas how to read Greek literature with The Iliad, and then set him free to enjoy The Odyssey. So far, it's kind of working!
I wanted Nicholas to read the relevant book of The Iliad before I had him watch the DVD, so this is the order in which we did things. First, using both my own prior knowledge and the teacher's guide, I sat with Nicky to talk about the book. Because we have been doing classical homeschooling since he was 3, this is not his first exposure to The Iliad, but it is the first time he is the one who is solely responsible for the material. After discussing, I turned him loose to read Book I and to do the work in the student book. Then, I let him watch the DVD material. He minded the reading not much at all, the written work a tiny bit more, and watching the lecture quite a bit. His complaint about the lecture was that all it did was completely rehash the book, making it feel like a waste of time. Like most teenage boys, Nicky does not like feeling like his time is not being put to good use. Also, because he has been through The Iliad before (a children's version, listening to me take Therese through parts of it, and listening to me rhapsodize about it for no reason), I can understand why he might feel that lecture was not necessary. However, for parents who don't have the benefit of a classical education themselves, the lectures might very well be the one component of this program that they can't live without!
The Odyssey follows a very similar path to The Iliad. The teacher's guide lays out the same type of discussion helps for parents to follow and the DVD lectures recap what the students have read (although, I will disagree with Nicky a little bit; there is more to them than just recap!). The student book has identifications, short answer, and discussion questions, and gives just the right amount of written work for each book.
I have not been disappointed by this product from Memoria Press. It's another winner! Expectations are clear and everything is laid out and super easy to follow. Once again, they have provided a product that makes it easy for a non-classically educated person to give her child a great classical education. We will definitely be finishing The Iliad, and I have every expectation that we will follow it up with The Odyssey. Memoria Press also sent Crew members other products to test drive, so be sure to click the banner below to see everything that they have been using for the past couple of months!