I was blessed with four readers. If my kids could read all day every day, they would. Mary-Catherine (12), in particular, shares my love for historical fiction, so I had no doubt to whom I would give Bessie's Pillow from Strong Learning, Inc. Bessie's Pillow is the story of a Lithuanian immigrant who came to America by herself at the age of 18 in 1907, joining 20 million others who also immigrated in that time period. For a great introduction to Bessie, you can watch the author talking about Bessie's Pillow on YouTube:
Mary-Catherine's review: This is one of my favorite books. I like this historical facts because I love history and historical fiction. I like that it's not boring. She makes the family history that was already interesting fascinating. She makes you feel that you're watching it as it happens. It's very easy to picture. My favorite part is when Bessie meets Nathan or when she starts working at Green's Hardware Store. The title refers to the pillow Bessie is given before she leaves for America. A family friend gives her the pillow to take to her son who is already in America. Bessie waits several years before returning the pillow to the son because she felt like it was part of her. I can't tell you anymore because...spoilers!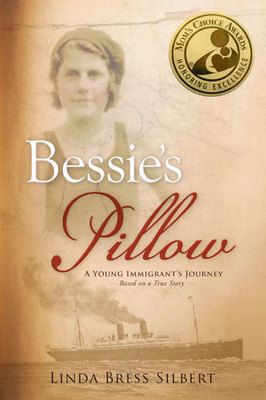 The book traces Bessie's life as immigrant in America from the age of 18 until her death in 1951 at the age of 63. Told in the first person, the book covers so many aspects of immigrant life. It reads like you are truly *there*. It's exactly the kind of book you love to get lost in, and it's so perfect for so many different kinds of readers of so many different ages.
Although nothing about this book says "school" to me, there are resources that make this book more "school-y" if that is important to you. The website
Bessie's America
has many resources to further illuminate the world Bessie lived in. You can read more about European immigration, food, recipes, and health of the time period, check out how Bessie would have done her housework and, my favorite, listen to the same radio shows Bessie would have listened to! It's no secret that we are addicted to Old Time Radio in my house, so to see that resource included in this study guide elated me. Please do yourself a favor and listen to some of
these shows
! It's amazing to put yourself back in Bessie's time and to picture her going about her day with these shows playing in the background.
We loved this book. I have already been recommending it to people and have heard back that they loved it, too. I would love to read more books just like this one, and I know that Mary-Catherine would, too. I don't think you would regret this purchase for one moment. Don't take my word for it, though. Click the banner below to read all the Crew reviews!