Home School in the Woods makes lap booking fun. I don't care if you don't think you like lap books or if you think lap books are hard. I can almost guarantee that Home School in the Woods will convert you. Their products are also the best deal in their space in the homeschool market? Why? Because you buy one product and you can lap book (or notebook) an almost infinite (or, in the case of the cool product we got the review, 50) number of options! We have reviewed for this great company before, but this time around, we got to try a new member of the Activity-Paks family: the Make-a-State Activity! (*real time face palm, y'all - after nine years of homeschooling, I *just* got it! Activity-Pak - Amy Pak (for the one or two of you who don't know, she is the genius behind Home School in the Woods). I'm bemused by my thickheadedness and amused by Amy's cleverness. Sorry I'm so late to that party.)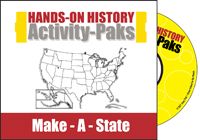 This is not the first Activity-Pak we've done, far from it. In our past ten years of homeschooling, we've worked through The Old Testament, Composers, and Artists. In fact, as she started working on this Activity-Pak, Mary-Catherine immediately began talking about doing Mozart for the Composers Activity-Pak. We've also done several of the Time Traveler American series, including New World Explorers and Colonial Life. Homeschool in the Woods really is a hands-on history company! They have something for everyone, whether you like to study history chronologically (the Time Traveler American series is tailor-made for you!), or thematically (the Activity-Paks have you covered!). Spoilers - read to the end of the review to see how Homeschool in the Woods is determined to service your hands-on history needs, even if you don't need an entire unit study from them!
With the Make-a-State Activity-Pak, you have everything you need to make an amazing lap book for any (or all) of the 50 states! You will get mini book templates for each of the following:
Key State Facts
Origin of State Names
State Motto
State Symbol
State Song
State Wildlife
Regions
State Geography
State Wildlife
State Seal & Flag
State History
Famous People From
Native Tribes
State Industry/Agriculture/Climate
State Landmarks
Sports Teams
State Quarter
Recipes
State Vocabulary
Timeline
Home School in the Woods even goes so far as to include a state facts/information sheet for each state, meaning that you can complete the majority of these mini books without needing to go to any outside sources. *Of course* you can do as much outside research as you want to - you can turn your state study into a semester long unit study if you so choose. If your primary goal is to create a lap book, though, with just the basic information about a state, you will find the vast majority of what you need included right with this Activity-Pak.
Our Experience with Make-a-State Activity
It has been a long time since any of my kids did a lap book. I actually thought they were too old for them. How wrong I was! It turns out that Mary-Catherine (12) was overjoyed that we got this review. "I love lap books!" she enthused. Since I love Home School in the Woods, between the two of us, we had the makings for a great review. Initially, Mary-Catherine was going to use Texas, our home state, as her lap book state of choice, but then she decided to do Arkansas instead. When this review posts, we will have just gotten back from Daisy BB Gun Nationals in Rogers, AR, and she wanted to learn about the state to which we would shortly be traveling. I gamely went about printing off all of the masters that she would need to complete the lap book, and she set up shop at the kitchen table (which is odd, given that we have a schoolroom table, but upon reflection, it's actually a huge compliment to Home School in the Woods - she didn't consider this school!).
Here is a picture of her favorite mini-book. She was delighted to report that she saw plenty of Apple Blossoms and Bauxite while we were in Arkansas!
Even if your ultimate goal is only to complete one state lap book, you can consider the purchase of this study to be money well spent. While I suppose you could just throw together a Home School in the Woods lap book quickly and be done with it, they are *definitely* not designed to be completed this way (and why would you want to?). These mini books are beautifully designed, and each one takes a fair amount of time to complete.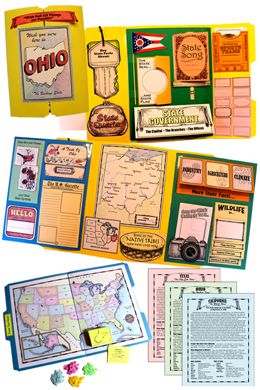 Something New from HSITW!
Y'all! Homeschool in the Woods has something brand new! If you have ever wished for just a part of something that this great company offers, you can now order that way.
A-La-Carte projects
are here! If you're anything like me, when you teach a certain even in history, you may find yourself doing a quick Internet search for a quick activity to cement it (or, you're one who plans way ahead, in which case, what I'm saying will work, too!). These a-la-carte projects are perfect for this purpose! To see if these a-la-carte projects are right for you, use code alacarte at check out to get the Erie Canal project on the page I linked just above for free! I did! It's a great way to try out what Homeschool in the Woods has to offer if you've never tried them before, too.
If you're still not convinced that HSITW is the best hands-on history company out there, click the banner below to read more reviews and see more great projects!