Because Therese (15) is in high school now, I am well aware of the need to be filling out a transcript and crossing those "t's" and dotting those "i's." She has had some Spanish and some Latin, but she has not yet had what I can actually put down as an actual course, so I was thrilled to be able to review Middlebury Interactive Languages' Spanish High School Year I.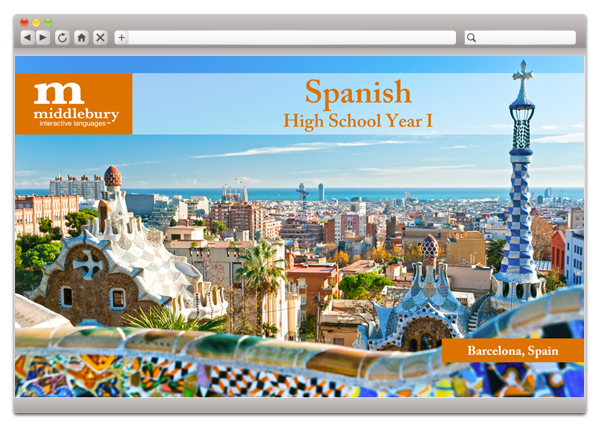 This is what each Middlebury Spanish I unit includes:
*Start the unit learning a new set of vocabulary words
*Type what is dictated to you
*Match vocabulary words to the corresponding pictures
*Watch videos about certain aspects of the culture
*Read a passage in Spanish and answer questions about it
*Watch videos concerning grammar
*Record yourself repeating phrases on the screen
*Take quizzes at the end of the unit
Each unit is supposed to take around 2-3 days to complete. It takes Therese 2.5-3 hours to complete one (she's a binge worker - she prefers to do multiple "days" of work at a time rather than doing Spanish each day). Working at her own pace in this manner, she has reached Unit 6.
As you can see from the following screenshots, the style of the course is colorful and engaging without being distracting.
Because Therese is the one actually using this program, I decided it was far more expeditious just to let her summarize her own thoughts:
"I really love the organization and formatting of this program. It has a perfect blend of vocabulary, grammar, and pronunciation practice. There is a nice variety in the types of exercises that must be completed. They have very interesting videos concerning different aspects of Spanish culture. The content itself is amazing. However, the website has multiple problems. For instance, sometimes it will only let me click on one of the possible answer choices. The correct answer will be "true," but it will only let me select "false." Of course, this is very frustrating. Also, one time it wouldn't let me click on anything located in the lower right half of the screen."
From seeing how Therese works with Middlebury, I can tell that she really likes it. To confirm her complaint above, she has mentioned a couple of times that there are technical issues with the program, but it really hasn't made her not want to do Spanish. She just tells me that she knew the correct answer but couldn't select it, and that's that.
For my part, I love how easy Middlebury is for me! I don't have to do anything. Therese logs in, does the work, and in the process gets a nice does of Spanish culture. At the end of the program, she will have a year of Spanish for me to put on her transcript! What's not to love? Middlebury has many languages and levels and other Crew families have been testing them out, so be sure to click the banner below to read about their experiences!