I have been fortunate enough to review The Critical Thinking Co.™ many times. I can honestly say that I have never seen a product of theirs that I didn't love. It's no surprise, then, that Sentence Diagramming: Beginning has found a place in my heart.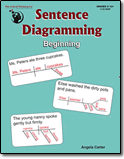 Recommended for grades 3-12 (so any beginning diagrammer), this 72 page book teaches basic diagramming in an easy-to-understand way that is sure to be a hit with any parent looking to give her child the diagramming advantage. This book starts at the beginning of sentence diagramming (simple subject and verb) and goes through compound predicate adjectives and nouns. Specifically, it covers Simple Subject and Main Verb, Direct Object, Adjectives, Adverbs Modifying Verbs, Predicate Adjectives, Predicate Nouns, Prepositional Phrases (Adjectival) Prepositional Phrases (Adverbial), Compound Subjects, Compound Predicates, Compound Direct Objects, Compound Predicate Adjectives and Nouns.
The book has plenty of room to work on each page with just the right amount of instruction. It was easy to work it into my twins (11) existing school day.
Our Experience with Diagramming
Therese (15) and Nicholas (13) have each done their time with diagramming, Therese more than Nicholas. Both of them enjoyed it, and I like to think that diagramming helped increase their understanding of English grammar. As with so many things, though, Mary-Catherine and Michael (both 3 weeks away from 12) haven't had the same educational experience as the older kids. They have missed out on diagramming! I was so happy, then, to have the opportunity to review this book. As with so many things that The Critical Thinking Co.™ does, the diagramming book is done perfectly. There is just enough material to teach the concept, and to teach it well, with nothing extra. There is nothing to get in the way of the concept, nor is there anything to cause a child to become bored or irritated. It is easy to get in, learn the material, and get out. Because of that, it was so easy to add diagramming to our day. In just a few minutes a day, the twins are becoming diagramming experts!
Also, in case you didn't know, The Critical Thinking Co.™ allows you to make as many copies as you need to for your own use (in your own homeschool classroom, *not* for coop or anything like that), meaning that both of my twins can use this diagramming book. I'm very used to buying two copies of everything (twins - duh), but not to have to is really great! I love The Critical Thinking Co.™'s policy! It has benefited my family many times.
If you are thinking about adding diagramming to your day, look no further than this great little book. If you have younger kids, The Critical Thinking Co.™ has you covered, too. They explain the Importance of Preschool Academics and suggest a software bundle to get them started. You will definitely want to click the banner below to read all of the Homeschool Review Crew reviews, since some Crew members were able to review software from the Reading, Writing, and Arithmetic before Kindergarten™ bundle!