Progeny Press
is one of those companies that I found when I first started homeschooling. I probably have more than a dozen of their study guides in my collection now, from the old-fashioned paperback versions to my favorites the E-Guides. In fact, I have reviewed Progeny Press
several times
right here on the blog! This time around we got to use
Indian in the Cupboard E-Guide
, which is great, since several of my kids have read and love that book!
Progeny Press study guides are absolutely, hands-down some of the best study guides out there. They are so well-organized and so easy to use. They each follow a similar format, but they all take into account the specifics of the books for which they were written. In this way, you always know what to expect, but you also know that the study guide is actually written specifically for your book. It's never a case of questions just being popped into a template as can be the case with some study guides. For The Indian in the Cupboard, the study guide format is as follows:
Book Synopsis

About the Author

Background Information

Ideas for Prereading Activities

For Each Group of Chapters, a selection of the following:

Vocabulary

Characterization

Short Answer Recall Questions

Point of View

Thinking About the Story (Comprehension Questions)

Dig Deeper (questions that tie the story to the Bible and a Biblical Worldview)

Writing Project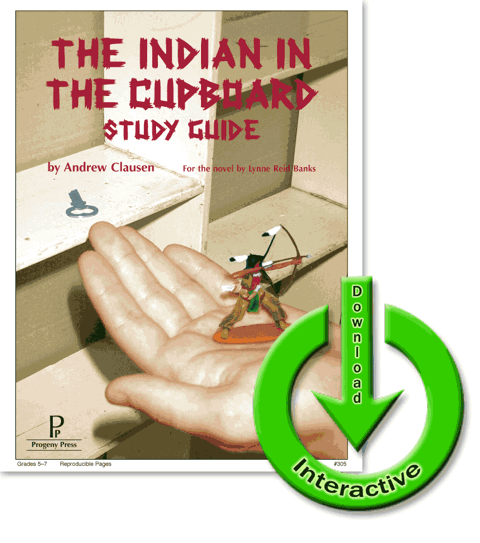 Because the format is an interactive e-book, all your student has to do is type the answers directly into the PDF. It could not be any easier! If you have a lazy efficient student like my Nicholas (nearly 13), this is absolutely the ideal format for a study guide! Nicky loves to read the book, and he doesn't even really mind talking about it, but he has yet to see the benefit of doing any kind of formal literary analysis. Thank goodness for Progeny Press and their interactive guides.
Nicholas and Progeny Press
Because Nicholas is not my biggest reader (which doesn't really say much - compared to a lot of my friends' kids, he's a huge reader), I wanted a study guide for a book he'd already read. That way, there wouldn't be a ton of pressure to read the book. It would be more about experiencing the study guide. He needs help on developing his literary analysis chops, and I figured he could do that just as well with a book he'd already read. Plus, as a family we already have a great literature program that we love, so I didn't really want to take away focus from that. Basically, I gave Nicky the guide on the laptop and asked him to review the pertinent chapters (so, Chapters 1&2 to start) and then complete that part of the guide for that week.
That has worked really well. He has the book to use for reference when he needs it.
The Dig Deeper section will be very attractive to some users as it uses Biblical passages to make the books under study more relevant for Christians.
As for us, we will continue to use Progeny Press study guides in a variety of ways. Whether it is for books my children have already read, as in this case, or for books they are reading for the first time, these remain our study guides of choice. Whether you have high schoolers reading Great Expectations, or children in elementary school reading Mr. Popper's Penguins, Progeny Press has you covered. Be sure to click the banner below to read all of the reviews!