Teaching writing to our own children is a tricky business. You can be a great writer, but it can still be difficult to translate that skill to a teachable one. Fortunately, Writing with Sharon Watson renders the whole problem moot with her program The Power in Your Hands: Writing Nonfiction in High School, 2nd Edition. For this review I received the eBook version of this complete writing program. From the beginning, I planned to use it with two of my children in two different ways. Therese (15 in two weeks and a rising sophomore) is already a great formal writer, but I never turn down another writing program, so I had her complete some assignments to see how the program compared with how I have taught her to write (long N.B., my dad taught me to write when I was a kid and he did an amazing job. I taught Therese to write the same way he taught me. My other kids have presented more of a challenge, though, hence my love affair with homeschool writing programs. I do, however, always end up comparing the finished result, if not the exact method, with how I was taught.). The real reason I was interested in this program, though, was that it looked excellent for Nicholas (13 and a rising 8th grader). He has great writing instincts, but needs some good formal instruction (and he isn't going to take it from me). Spoilers - this is an *excellent* program. But first, the details: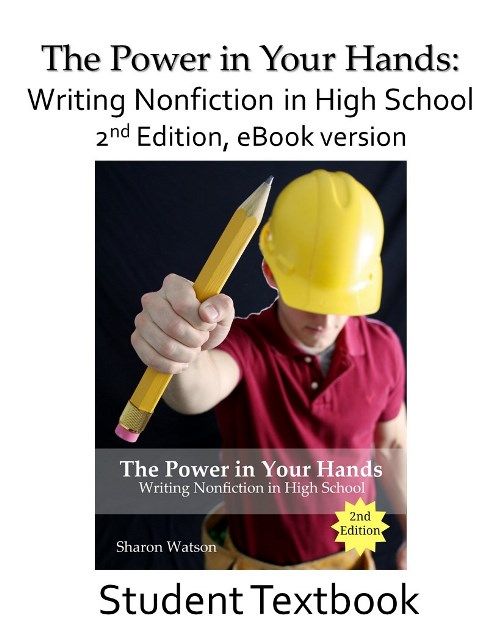 The student textbook (eBook version) is 424 pages long. It covers the following:
Before You Write
Persuasion
Proofreading
Exposition
Description
Narration
Reference
There are 117 suggested daily lessons and instructions for 21 different writing assignments. Throughout the course, the student learns everything about writing from the ground up, from "first sentence anxiety," to main idea, to the structure of different essays. Different essay types are explored through assignments, which students are taught to edit and proofread. One of the best features of this program is the built-in grammar. By the time students are in high school, they should have covered most of their basic grammar (both Therese and Nicholas are still doing grammar weekly, but both have also done grammar at the high school level for years), but when you write, there are certain grammar issues that arise over and over. Mrs. Watson, being aware of this fact, incorporates salient grammar lessons and includes practice worksheets throughout the program. That really does make this an all-in-one program.
The accompany Teacher's Guide (also an eBook) has 229 pages and covers the following topics:
Grading Toolbox for Teachers
What's in the Student's Toolbox
Teacher Key to The Power in Your Hands (corresponds with the student book)
How We Used It
As I indicated above, I used this program with two of my children. Because dual-level instruction is provided, it is completely possible to use this with children who are at different levels in their writing careers. Therese, as an advanced writer, has been able to get something out of this course, while Nicholas, as more of an intermediate writer, will get much more out of it over the course of the next year. In fact, it is exactly what I have been looking for for him!
Regarding this program, Therese had this to say, "It has a lot of useful information. It tells you a lot, but keeps it very easy to understand. The section on persuasive writing was particularly compelling. The selection of writing assignments was diverse and drew you in easily. Nothing felt forced. This is a great program for those just learning to write or for those who need to sharpen their skills."
Nicholas, too, has been, if not *enjoying* this program, at least not protesting it! (Hey, for a 13 year-old boy, that's practically an endorsement!). For Nicholas, we started this program at the very beginning. Mrs. Watson obviously knows kids and writing, as she starts the student book with having kids fill out a checklist describing their attitudes toward writing. One option states, "I would rather walk across a burning desert at high noon with buzzards circling overhead while I drag a bone-dry water bottle than write anything whatsoever." Fortunately, this does not describe Nicky's attitude! It does show that Mrs. Watson understands that writing is not a favorite for all kids, though. She doesn't expect it to be. She does expect that she can make it palatable, though, and she does!
Because the lessons are short, Nicky did not balk at doing them. On no day do you do a *ton* of writing. For a beginning-ish writer, that can be really important. Of course, you can do as much as you want. If Therese had been using this program years ago, she would have been doing weeks of work in one day. Different kids and different attitudes = different approaches to the program. For Nicky, though, it's important to get in, get out, and get done. This program allows him to do that while still getting really solid writing instruction.
An excellent feature of this program that is so helpful for a kid like Nicky (read - very literal, very stubborn, doesn't like to listen to his primary teacher very much (in case you didn't know, he has ADHD/OCD/Tourette's)) is the constant presentation of what is and is not appropriate or good writing for this age level. Nicky is a very bright kid who will get away with doing as little as he can the majority of the time. Mrs. Watson presents a sentence (which would be the kind of sentence that Nicky, on a bad day, would write). She then says, "This is appropriate for elementary school." She will then give an example of a high school level sentence. That sentence is one that Nicky is perfectly capable of crafting. The kid has had high school grammar for years. He is the master of appositives and uses all kinds of clauses beautifully, so when he's not being lazy he can write some truly impressive sentences. Mrs. Watson pushes him to do so. She doesn't accept the bare minimum. And because it is someone else telling him that the bare minimum is not acceptable, it is easier for him to swallow.
Can you tell I like this program?
I should also mention that Sharon Watson is the creator of
Illuminating Literature: When Worlds Collide
, our literature program, which
I reviewed last year
. I also can't say enough good things about this literature program. I just love and it and am hoping and praying for some kind of sequel! I mean, I really liked it when I reviewed it, but I have loved it more and more as we have neared the end of it. I have the feeling I am going to feel that way about The Power in Your Hands!
Sharon Watson also has another really neat product that the Crew got to review called 21 Grading Grids, so be sure to click the banner below to read all about those and to see how other reviewers used and enjoyed her high school writing program.