Heirloom Audio Productions always has wonderful stories, so we were super excited to receive Captain Bayley's Heir for review.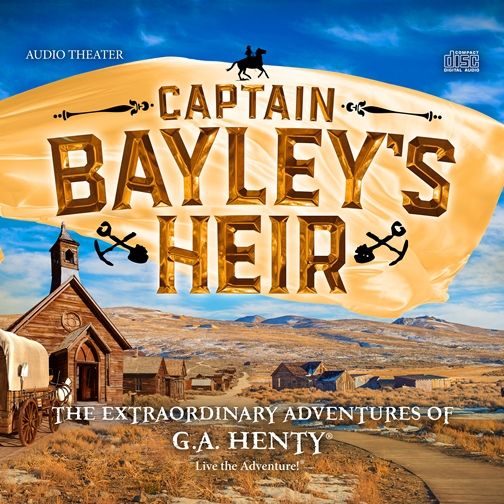 Captain Bayley's Heir is another wonderful story from G.A. Henty. This time, the primary setting/time period is the California Gold Rush (one of my absolute favorite times in history), but there are so many other locations in the story! The action actually begins in England where main character, 18 year-old Frank Norris (hey - maybe we're cousins - that's my maiden name!), is accused of theft. Attempting to clear his name, he makes his way to America, ending up in New Orleans, and then making his way to California (after all, where else would a young man go in the middle of the nineteenth century on this side of the pond?). There are so many aspects of history that show up in the story all along Frank's journey. It's the best part of a G.A. Henty novel. You'd expect Indians, and there are Indians. You'd expect steamboats (why else would Frank show up in New Orleans?), and there are steamboats. There would have to be wagon trains, right? Of course there are wagon trains. Stagecoaches? Obviously. There is also everything you'd want to know about living in a mining town. Best of all, there's a surprise twist at the end! I wasn't expecting that! And because it's G.A. Henty, there are continual reminders that God's love and God's grace abound in everyday life.
Now, a G.A. Henty novel is always a treat, but a G.A. Henty full-cast audio production from Heirloom Audio Productions is nothing short of a delight! Brian Blessed is, as always, Henty himself (Mr. George), lending a continuity to all of the productions. Other cast members are familiar from previous productions.
While the voice actors are amazing, the sound effects are what really set Heirloom Audio apart (after all, for great voice actors, there are audio books, right?). Nothing else sounds like Heirloom Audio. You are literally right there in the story. As soon as Mary-Catherine (12) turned on my old Sony Discman, she was mesmerized. "The fire! You can hear it crackling!" (N.B., this is not our first Heirloom CD, but it's the first one any of my kids has ever listened to with headphones; we usually listen in the car. Headphones make a great production practically unbelievable.)
While I wholeheartedly and unequivocally recommend any Heirloom Audio CD or mp3 download, I recommend their
Live the Adventure Club
even more. Through this club, you have access to so many extras to go along with your story! A little extra that I love is the ability to see the script of the story as it is playing in the background:
That's just the beginning, though! You can access the ebook of Captain Bayley's Heir (including beautiful full-color graphics), along with the exciting soundtrack that accompanies the story. There is, as always with Heirloom's G.A. Henty productions, a beautiful cast poster. There is also an inspirational hymn poster with Amazing Grace on it. One thing I really like this time is the desktop wall paper. Something about the cover art for this CD really appeals to me! I think it's just beautiful. The meat of the "extras" that you can access through the Live the Adventure Club, though, is the amazing Study Guide. I've said it before and I'll say it again: Heirloom's Study Guides are works of art in and of themselves (oh, and the content is on point).
The 36-page study guide is available either to download or to read online. It is dedicated thusly:
If I could, I would insert a bunch of heart emojis!
I love how the study guide introduction explains its divisions - about four to eight minutes of audio per section. That makes it so easy to predict how and when to use it. Like previous study guides from this company that we have used, the "chapters" of this one are divided into three sections each: Listening Well (basic recall), Thinking Further (what I call comprehension questions, which require more in-depth thinking, including drawing conclusions, analyzing motives, and intentions, etc.), and Defining Words (dictionary lookup). The study guide also has "Expand Your Learning" sections, which give extra "inside information" about the times.
See what I mean when I say the study guide is a work of art?
The study guide concludes with Further Resources, a book list, with topical books related to all things covered in this story. It includes one of my favorites - "What Jane Austen Ate and Charles Dickens Knew." Finally, Heirloom ends with a feature included in all of its study guides - Bible Studies. Each is about a page long on a single topic. The topics in this study guide are God's Grace, Honoring Your Parents, and Becoming a Christian.
Our family will continue to enjoy Heirloom Audio Productions' products over and over. I think Captain Bayley's Heir may well be one of my favorites. I would love for you to check it out! Also, be sure to read 99 other reviews by clicking the banner below!