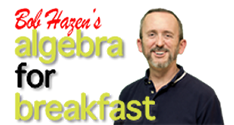 I have reviewed many math programs in the last seven years, but I'll confess that Algebra for Breakfast takes the prize for best name. This math enrichment program is unlike anything I have ever used before, so, for once, Michael and Mary-Catherine (both 12) got to do something that the other kids didn't get to do! They are in 6th grade, so we reviewed the level for grades 5/6.
The brainchild of Bob Hazen, a math teacher with a Master's Degree in Mathematics Education, Algebra for Breakfast is the online version of the Hazens' Summer Algebra Institute, developed after Bob spent years working with young children teaching them how to do algebra. You can read about Bob's entire teaching journey here.
Algebra for Breakfast is different from other online math programs. There are two levels available, 3rd-4th grades and 5th-6th grades. The program requires a set of math manipulatives (which are included in the Full Membership Pack) and math dice. The lessons total 50 in number and are unlocked over a period of 90 days (you have access to all of the lessons after 60 days). The reasoning behind the gradual unlocking of lessons is that children learn best online in segments, rather than immersion-style. This finding is especially true when the online program is supplemental, rather than primary. The lessons are delivered as short video clips of the Mr. Hazen teaching actual children in a classroom setting, followed by a worksheet (which you print from the Internet inside of the lesson). Because the lessons themselves are so short and Mr. Hazen's approach is so unique, this program is the perfect supplement for the student is math averse or even math phobic. Best of all, some of the videos have pre-instruction content (in the form of separate videos) for the parent, meaning that you really don't have to have any math knowledge at all to take advantage of this program. Mr. Hazen literally does everything for you.
I'm including a screenshot of the names of the first 20 lessons just so you can see what your child will be learning. If you're like me, you might be skeptical that your 5th or 6th grader could be learning about *trinomials*, but put your doubts aside: Mr. Hazen takes the fear and mystery out of algebra. He literally demystifies it. I wish I had had him for a pre-algebra teacher back in 7th grade when my math career began going astray. Prior to that year, I had always been a straight A student. After that, math always stood between me and the perfect report card.
If your child is a math natural, like my first two, then you may not need or want this program, but if your child struggles with or is afraid of math, I would strongly encourage you to check this program out.
What My Twins Thought
I'll be honest - it was a struggle to get my twins on board with Algebra for Breakfast. It is always a struggle to get them to do math. Once they actually sat down with the videos, though, they didn't give me any more trouble. They realized, quite simply, that Algebra for Breakfast isn't hard. They won't go so far as to admit that it's fun, but it's not hard. And they are learning and understanding math concepts more deeply than they usually do. When I got this picture of Mary-Catherine working, she looked at me and said, "I like him." Since Mary-Catherine usually despises anyone who even says the word "math" to her, that's praise of the highest order.
I wish that Mr. Hazen could just teach all of their math from here on out. He is very no nonsense (but has a kind manner), and tells students what they need to know while simultaneously illustrating with manipulatives why such is the case. Seeing math can make such a difference for some kids. Obviously this is a supplementary program, so there wouldn't be any kill and drill, but I have the distinct impression that Mr. Hazen would reject that philosophy anyway. Now if only I could explain the concept of "supplementary program" to Michael and Mary-Catherine...(as in -- you still have to do other math!).
If your children are younger than mine, remember that Algebra for Breakfast has a grades 3/4 level as well! Other Crew members reviewed that level, as well as the grades 5/6 level, so be sure to click the banner below to read all of the reviews.