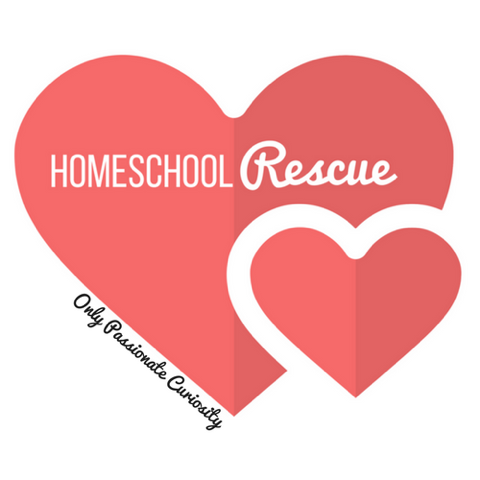 Today's review is a little different.
Only Passionate Curiosity
's
Homeschool Rescue
is actually owned by a former Crew member! When you purchase her program, you have actually purchased your very own homeschool mentor - at least that's what it feels like. When I was working through Heather's course, I felt like I finally knew what many of the women I have talked to about homeschooling over the years must have felt like. See, I have always been the one people come to for homeschooling advice, reassurance, and help, but I have never had *that person* to go to myself. For the most part, I haven't felt like I needed her. I'll confess, though, it was very nice to hear Heather telling me things that I know intuitively, but that it is very, very good to hear said out loud now and then.
I feel like I'm getting ahead of myself, though. What exactly is Homeschool Rescue?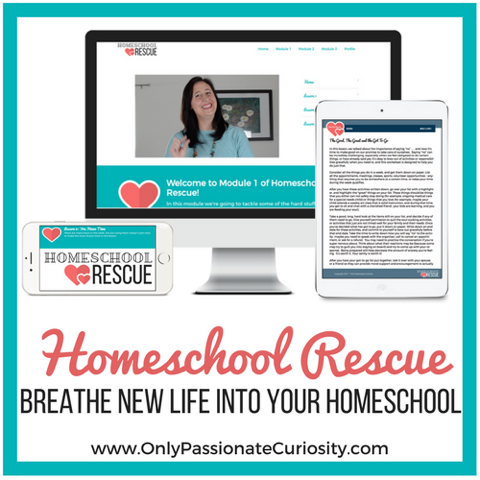 Homeschool Rescue is comprised of videos, transcripts, audio downloads, homework and workbooks, and other resources and links. The videos have a total run time of about five and a half hours. The great thing about the course, though, is that it caters to so many different kinds of people. I find that I just don't have a lot of patience to sit down and watch these kinds of videos, but I was really hungry for the information contained in them, so I went through and devoured the transcripts before going back and actually watching the videos. I'm the kind of person who wants all of the information NOW. Plus, I read fast. I love that the transcripts are included.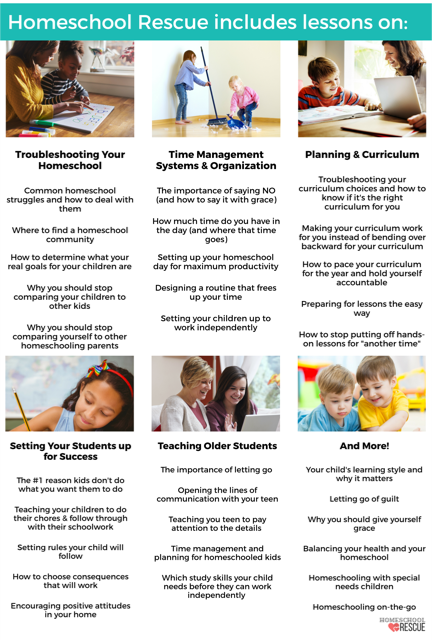 Each lesson proceeds according to the same pattern. First you watch the video (you can also take notes during it - Heather provides some great notepaper).
At any point during this process, you can also reference the transcript:
After you've watched the video, there is at least one, and usually more, homework assignment (to protect Heather's intellectual property, I didn't actually include the homework - just the header for this section):
Finally, if you like having things scheduled out for you, you're covered! Heather provides a full 60-day schedule!
Perhaps the most important question is what kinds of things you'll be covering in this course for mom. Basically, anything that concerns you as a homeschooling mom is what you'll be covering! Scheduling, curriculum, time management, and, perhaps most importantly, taking care of yourself. If you have ever wondered if you're a good homeschooling mom -- or even a good *mom* -- this course might be one that you would benefit from.
The way the course works is on a rolling enrollment basis. Because Heather wants to make sure that she can give adequate personal attention to all of her clients, she limits enrollment to the course at any given time. Thus, she only opens up enrollment a few times a year so that she can be completely present to all of her clients, especially since access to her private Facebook group is included in the cost ($97 for lifetime access to the videos and the Facebook group, plus bonuses, or $137 for all of that plus three one-on-one coaching sessions with Heather).
What I Thought
I think there is a real need for courses like this. Too many homeschool moms (or prospective homeschool moms) I talk to seem completely overwhelmed. Sometimes they are drowning in a cup of water, and sometimes they have real issues in their homeschools. Heather addresses both issues. She is compassionate and informed and makes you feel like she is on your side. Even her personal consultation price is extremely reasonable. You would pay more than that for one or two sessions with many personal trainers, therapists, or doctors, but as an expert in her field, Heather is offering you her services at a highly discounted rate. I'm at a different stage in my homeschool career (we are in our ninth year), so I have a pretty good idea of what I'm doing, but Heather addresses many of the questions I had at the start (but didn't want to ask anyone! I hate asking people questions, let alone for help! Is anyone else like that?). Well, with this course, you can keep your vulnerability to yourself while still getting the encouragement and advice you need.
Mine is only one opinion. 99 other Homeschool Review Crew members test drove Homeschool Rescue, so click on the banner below to see what they had to say!