Focus on the Family does many things, but their ministry can probably best be summed up by the word media. One aspect of this media is their Adventures in Odyssey program. New from Focus on the Family is Captain Absolutely, a graphic novel based on a character from that much loved program! Subtitled Defending Truth, Justice, and Lots More Truuuth!, this fun comic book-style paperback features Josiah King, who, after being trapped in a library and a room full of Bibles and radioactive fumes, is transformed into the superhero Captain Absolutely.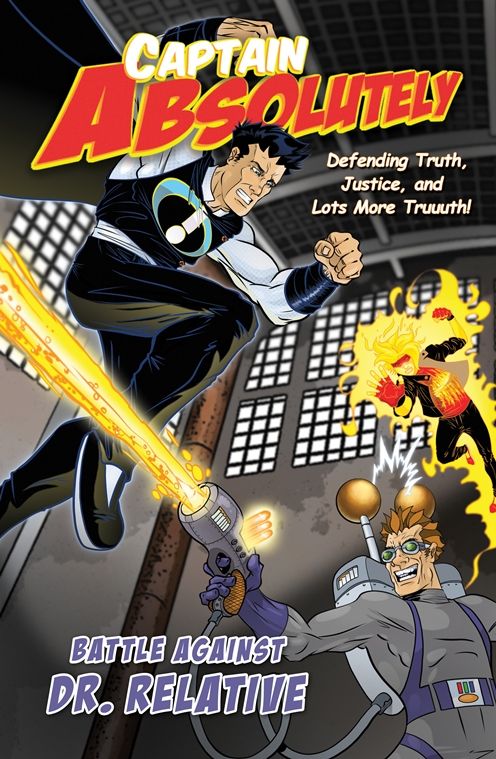 My 12 year-old son Michael is a comic book aficionado, so when this book arrived in the mail, I immediately handed it to him to read, which he did in about half an hour. Here's what he had to say about the book: "Captain Absolutely is about a young man who is at the library when there is a big explosion and he is trapped in a room of Bibles and (unbeknownst to him) toxic fumes filter into the room. The explosion also affected his friend, but you don't find that out until later when you find out that his arch-nemesis is his friend Darren. Throughout the book he fights crime and defeats small time villains until he meets a girl named Hana who has superpowers as well. There are Bible phrases throughout the book. I like the character bios at the back of the book and the art style is really nice as well. The story itself is not bad, but it's a little annoying how there is absolutely no violence (and that's not the word I really want - I guess I mean action -- comic book style). The action is what makes a comic book in my opinion. Technically this is a comic book and not a graphic novel, since a graphic novel must be over 124 pages long and this book is 105 pages, including the character bios. It's only 97 pages without them."
(Michael again emphasized that the book was okay - that it wasn't bad. He referenced friends of ours who he says would absolutely love this book, even though it's not really his cup of tea.)
What it comes down to for us, then, is that this is a comic book style book that, for Michael, doesn't have the hallmark of a true comic book - that cool comic action. However, for kids whose parents don't want them to partake of any kind of violence, even cartoony or comic book style violence, this book could be just what the doctor ordered. And, I'll be very honest, when I told Michael that we could give this book to our friends when the review was over, he said he didn't really want to because he loves the art style of the drawings so much. It seems, then, that there is something for everyone to love in this comic book.
Ours is just one opinion! The Homeschool Review Crew offers you 69 others! Be sure to click on the banner below to read all of them!