One of the most amazing privileges I have had as a seven-year member of the Homeschool Review Crew has been reviewing curriculum from Institute for Excellence in Writing. This time around, Therese and Nicholas got to take a look at High School Essay Intensive, which is a DVD course comprised of five DVDs totaling six-and-a-half hours, student handouts, and Portable Walls for the Essayist. Let's look at each component in turn.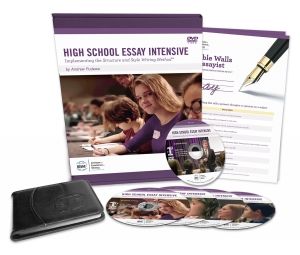 The discs are broken into four parts and are as follows: General Strategies for Essay Writing: Length and Structure, General Strategies for Essay Writing: Invention and Style, Understanding and Preparing for the New ACT Essay, Understanding and Preparing for the Redesigned SAT, and Strategies for the Personal Essay. The DVDs feature a writing seminar taught by Andrew Pudewa. Like the rest of the courses I have from IEW, he is teaching the course to actual high school students. It really is the next best thing to being in one of his classes.
The student handouts may be copied for use within an immediate family only. They contain both writing assignments and outline-type notes of the DVD lectures for the students to fill in as they watch the lectures. Filing in the notes this way has a twofold purpose: first, doing so provides students with a complete set of notes at the completion of the course. Second, when students write down the things they hear in this manner, they are more likely to remember what they learned.
The third component of the program is the Portable Walls for the Essayist. If you're familiar at all with IEW, then you know what portable walls are. If not, portable walls are like the individual dividers that we used to have in public school to keep wandering eyes off of each other's work. They are like foldable "cheat sheets" of helpful information that you can use to remind you of key aspects of this program. This set of portable walls focuses on essay models, reminding writers of the various types of essays, word lists, and the important aspects of introductory and concluding paragraphs.
How We Used It
I'll disclaim right off the bat that Therese never really got along with IEW. I think the reason is twofold: she was already a very competent writer when I first brought IEW into the house and, for whatever reason, Mr. Pudewa's teaching style does not resonate with her (fun fact: Therese debated one of Mr. Pudewa's sons at her first ever debate tournament when she was 12!). However, I have three other children who run for the TV when they hear Mr. Pudewa's voice (because I have put an IEW DVD on) and who think he is the cat's meow. Proof that not all homeschooled kids are created equal and that there is a teacher and a program for every child.
In this case, though, because the writing portion of standardized tests is so important, I definitely wanted Therese to take a look at this course. After she did the initial exercise, though, picking one of two argumentative essay prompts and writing on it for 20 minutes, and I read the essay and found it to be of impeccable quality, I changed my mind. The fact is that Therese is just a stellar writer. Her high school curriculum focuses on writing critical essays. She writes speeches to perform. Debate has honed her critical thinking and it is reflected in her writing more and more each year. She is beyond this course. Fortunately -- I have another teenager!
Nicholas, 13, is a rising freshman. He has good instincts when it comes to writing, but does not write well under pressure and has not had to write on a standardized test yet (unlike Therese, who took the SAT for the Duke Talent Identification Program when she was in 7th grade). He is the perfect candidate for this program. When asked to complete the same argumentative essay assignment, he wasn't able to write a complete essay in the 20 minute time period. He just can't organize his thoughts that quickly. During the course of the review period, then, he has worked through the first part of the DVD series - General Strategies for Essay Writing: Length and Structure, which has been tremendously helpful in aiding him in understanding what an essay actually looks like. Frankly, it couldn't have come at a better time in his educational career since he is about to start high school. While he is not crazy about the program, he's not crazy about writing in general, and he can definitely see the improvement in his writing. Plus, he likes Mr. Pudewa, so that's a big plus!
If you have a high schooler who needs help with essay writing in general, or with timed essay writing in particular, I really recommend this course. 59 other Crew members also got to review this program, so be sure to click the banner below to see what they had to say about it.